Who I am
Hello! I am Sophia Fendel, a freelance illustrator living Augsburg, Germany. I was born in 1992 in the beautiful vineyard town of Radebeul, where I grew up with four great siblings and seven budgerigars.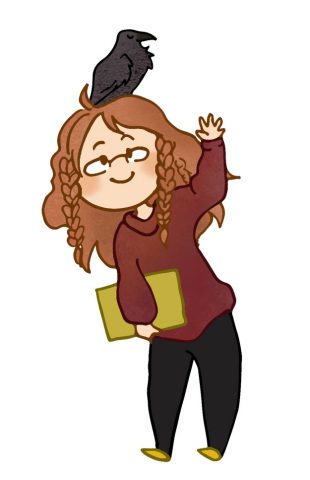 The tower ruins on the vineyards, the nearby, mysterious forests and rocks of Saxon Switzerland and the annual Karl May Festival fueled my interest in world history, nature and the peoples of the earth.
From the very beginning I expressed this interest through imaginary stories (illustrated, of course). Especially my younger brother was always a loyal companion when we went on adventurous treasure hunts, solved mysterious puzzles or traveled through time and space to unknown places, to unknown civilizations.
Although I studied ethnology after completing commercial high school and then worked for a few years for a newspaper and afterwards for a magazine publisher, in the end it was always drawing that made me the happiest.
Books and pictures – that has always been my world!
What I can offer you
No matter if you need children´s book illustrations, a cute postcard design or illustrations in general for a specific product – I enjoy working with my clients to create a coherent end product out of a great idea.
With me you will find colorful and often also very detailed illustrations. I especially enjoy to draw fluffy animals or whimsical sceneries for the very young bookworms, who sometimes have yet to find out what kind of paper and ink tastes them best.
I also love to illustrate all kind of myths, legends and fairy tales from around the world, because I always found it fascinating how different (or similar sometimes) our cultures tell stories or remember their own origin. What could be more fun than bringing these tellings to life through illustrating them?
For me as an illustrator it is important to bring by this means way more multicultural characters in picture books. I think that especially indigenous children from all over the world need much more representation in children´s literature so that they have more characters to indentify with. So if you need well researched illustrations for a fictional or non-fictional book about native cultures, I am very happy to help you with that!
Let me know which projects I can help you with. Write me a message below, I'm looking forward to it!